Luxury travelers share the same high expectations, but activity preferences do vary. For this year's note on summer destinations we've picked three choice locations to fancy very distinct travel personalities.
London: for the sports enthusiast, literary buff or shopaholic
Chock-full of events and festivals, it is a busy year for many locations across the UK. The Summer Olympic Games in London this year is getting everybody buzzing about with excitement and anticipation. Various sports as well as cultural and local events are taking place from this month through August. Simply take your pick and mark your calendars. Feast on the World Shakespeare Festival 2012 produced by the Royal Shakespeare Company in collaboration with leading arts organisations worldwide. The mesmerising buffet of Shakespearean delights entice with thousands of artists and 70 productions across numerous locations to choose from. If you're in the mood for fusion, indulge in the operatic masterpiece of Verdi's Otello at the Royal Opera House and witness one artistic genius' appreciation for another through a musical interpretation of the the bard's original play.
Complete your holiday activities with the requisite shopping at London's dizzying array of boutiques and giant establishments ranging from luxury to vintage and even to the slightly quirky. Book your own private spree at Late Night Chameleon Cafe on Shacklewell Lane where high concept fashion shopping is taken to a new level. Or, if hunting for the rare fashion book or other out-of-print coveted read is more your cup of tea, visit Claire de Rouen Books on Charing Cross Road. Recharge and rejuvenate before the next item on your itinerary at Mandarin Oriental Hyde Park London and ask the concierge to make arrangements for a speed boat trip up the River Thames. Remember to bring the bubbly.
Song Saa Private Island: for the nature-loving, free-spirited soul
Enjoy a quieter and tranquil space at Song Saa in the Koh Rong archipelago, Cambodia. The locals refer to the pair of islands whose name means 'The Sweethearts' in Khmer. So, it was both heartwarming and inspiring when the owning couple Rory and Melita Hunter realised their dream to turn Song Saa into an intimately luxurious – and sustainable – resort sanctuary.
Image source: www.songsaa.com
The eco-conscious will appreciate "luxury that treads lightly" in impeccably detailed villas built with sustainable and recycled materials. Stargaze and explore the islands' flora and fauna through an ecological program, trek through virgin rainforest or snorkel to discover the islands' reefs with the guidance of your own marine biologist.
Relish nature from morning till night: rise with the sun to welcome the day with yoga, get pampered at the spa and wellness centre which is suspended among the rainforest along the water's edge, and enjoy a cocktail party above water and under the moon. Sound conservation programs and wonderfully simple experiences lavished by nature, Song Saa Private Island is a prime example of a sustainable luxury eco-tourism destination.
Images source: www.songsaa.com
Saadiyat Island: for the pleasure seeking busy professional
Time is money so do business if you must — just be sure to blend it with leisure. At Saadiyat Island in the UAE you can mix it up so seamlessly that business itself may be a true pleasure. Hold your next meeting at this multi-faceted island destination where the fun and frolic conveniently fall in to place. Just 500 metres off the coast of Abu Dhabi, the beautiful island is still under development yet already many of the top hotels are open and serving an endless stream of guests who delight in being among the first to experience the premier destination.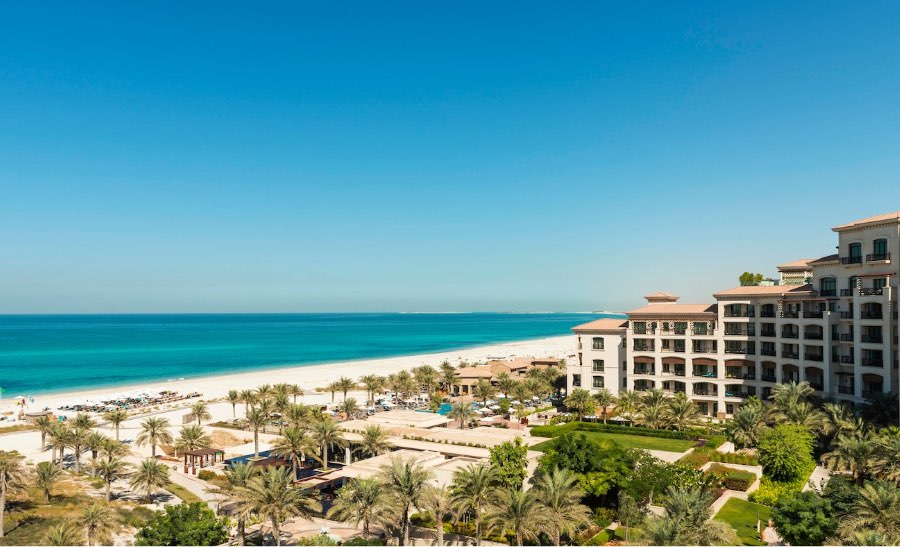 Image source: www.marriott.com/hotels/travel/auhxr-the-st-regis-saadiyat-island-resort-abu-dhabi
The Monte-Carlo Beach Club promises an exciting experience for all and Hili Fun City, a popular amusement park in the Arabic Gulf region, offers kids an extra dose of fun. Slow down the pace and meander through the art galleries and theatre at the "place of enlightenment," Manarat Al Saadiyat. International collections from around the world and cultural exhibits will impress at this artistic venue. Then after the day's activities unwind as your very own private butler speedily attends to your needs at The St. Regis Saadiyat Island.
Image source: www.saadiyatbeachclub.ae