Plenty of traditional crafts are on the verge of dying out and for some the only way to survive is to bring it to the highest level for a very select group of clientele. When it comes to shoes – similarly yet more successfully than wear-it-once dazzling gowns of women's couture – the craft of bespoke shoemaking still holds its place relying on wealthy patronage and continued appreciation for exceptional levels of excellence.
Image source: rickwilsondmd.typepad.com
In the past the need for a new pair of gentlemen's shoes warranted a visit to the shoemaker's shop and perhaps a waiting time of several weeks or months. From ancient times till around the 19th century shoemaking was a traditional handicraft. By the end of the century large factories started mass-production of shoes — every part of the shoemaking process became mechanised bit by bit. Today, there's no thinking twice about entering a shoe shop and emerging with several pairs within an hour or even less.
Unlike ready-to-wear shoes, including the high-ticket handmade variety which are themselves worthy of a connoisseur's foot, bespoke shoemaking involves plenty of consultation, getting to know a client's preference and requirements, taking foot measurements, drawing up the patterns, carving the last with precision, and finally making the perfect footwear using materials agreed upon with the client from scratch. It involves more steps than the process for custom-made shoes which basically takes a ready-made model and adjusts certain details like material choice or colour to "customise" the pair. In contrast, bespoke shoemaking produces wearable objects of intimate art rather than just footwear. Here are three noteworthy examples of bespoke shoemakers:
Image source: www.johnlobb.com
John Lobb
With a long history of over 150 years, John Lobb shoes promise sturdiness, timeless elegance and unique comfort while being an extension of the wearer's personality.
Born in Cornwall, England, John Lobb started at his craft as an apprentice boot-maker in London and went to Australia making boots for gold miners for a period of time. He then became the official boot-maker to the Prince of Wales in 1863 and later opened a shop in Paris in 1902. In 1976 his company became part of the Hermès group and expanded to offer a ready-to-wear collection of shoes and leather goods manufactured in Northampton. While a ready-to-wear collection means quick ownership of a pair of already exquisite John Lobb shoes is possible, true connoisseurs patiently wait for their bespoke pair which involves a 50-hour work process over several months. These bespoke services are still offered at its Paris workshop at 32 rue de Mogador.
Respected for its rich heritage, John Lobb today has formed partnerships with some of the world's finest hotels where hotel butlers are trained and certified by John Lobb in the rituals and techniques of shoe care. The service is provided on the John Lobb ShoeShine Chair, a specially designed leather polishing chair created by Rena Dumas Architecture Intérieure no less – the agency entrusted with designing Hermès stores worldwide.
Image source: www.berluti.com
Berluti
With humble beginnings in the small Italian port town of Senigallia, Berluti founder Alessandro Berluti learnt shoemaking from an old master of his village. He later traveled to Paris to set up his boot-making workshop catering to the wealthy. The next generation, Torello Berluti, saw the brand's fame skyrocket and Berluti opened shop at 9 rue du Mont Thabor in late 1920s. However the shop quickly became too small to service a long list of wealthy clients from around the world prompting a move to 26 rue Marbeuf, one of its three locations in Paris today. Its third generation, Talbinio Berluti introduced a range of hand-made but ready-to-wear shoes that appealed to a select group of younger clientele while still offering bespoke shoemaking services.
Bespoke Berluti shoes require between six to ten measurements which are used to precisely sculpt the shape of the last — a precise model of the client's feet used to make the footwear. Each pair takes about 6 months of work involving many specialist craftsmen like the last-maker, pattern-maker, cutter, stitcher and colourist.
Desire to make a pair of hand made shoes perfectly built for only your feet even more exclusive? Put your "signature" on them by incorporating your own design, pattern or monogram through a tattoo. The artisan Olga Berluti is one of a few specialists in the world able to do this through Berluti's extreme personalisation service.
Image source: www.corthay.com
Corthay
Corthay's history started in 1979 when, fuelled by a passion for leather, its founder Pierre Corthay took part in "Compagnons du Devoir" – a six-year training program that takes in only the most talented apprentices of their respective trades from around France. Upon completion of the program, Corthay spent the next 2 years working for John Lobb, perfecting the technique of luxury shoemaking and was later invited by Berluti to replace the position of a retiring senior craftsman in their company in 1985. Corthay spent 5 years with Berluti before creating his own company of his namesake.
Corthay's fame spread quickly and in 1995 an article by Herald Tribune's Fashion Editor Suzy Menkes led to an order of 150 pairs of bespoke shoes for the Sultan of Brunei. The company's continued growth saw Pierre's younger brother Christophe Corthay joining the company in the following year.
Paying particular attention to various pressure points and muscular density of the individual's feet, every bespoke pair is a testament to the brothers' dedication and skill. In 2008 the French Culture Ministry awarded Pierre with a distinction of 'Maitre d'Art', recognizing him as the 'crème de la crème' of French craftsmen making him the only men's boot-maker to have received the prestigious award.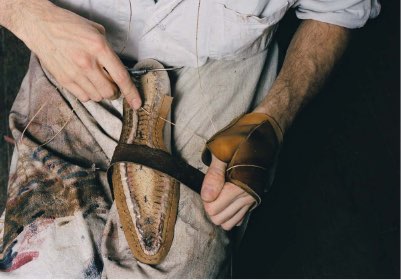 Image source: www.corthay.com
Today its clients have the options to choose between shoes from its ready-to-wear collection or its bespoke offering — still 100 percent hand made at its highly traditional Rue Volney atelier in Paris. While not nearly as prominent as the luxury watch makers and whose skilled artisanry offers a practicality above high-profile evening couture, bespoke shoemakers continue to enjoy an appreciation for their age-old craft. It seems as long as there is royalty and very discerning sartorial gentlemen, this refined tradition is here to stay.